Press Press & Center for Liberatory Practice & Poetry

Online Store
---
Sanctuary Banners


A fundraiser to support Press Press in maintaining their monthly costs.

Shipping in mid January 2023.



Friends & Family – we need your support to meet our most basic monthly expenses. We are selling a limited edition of 20 banners with statements that emerged from our 2018 Sanctuary Manifesto. All proceeds go directly back into our organization and make a huge difference for us in the coming months. We aren't able to process sliding scale payments on our online store, so banners are selling for $100 each. If you are interested in grabbing one for more or less, you can email us directly and we'll do our best to process this! If you'd like to make a smaller donation (every dollar helps) you may also do so by sending a gift via PayPal using our email: presspresspublishing@gmail.com. Banners will ship out all at once later this month. This sale is for individual buyers, interested intitutions may contact us directly for the institutional price.

Banners are 24" X 36" lightweight canvas, hemmed on the edges.

Thank you so much y'all. ︎


$100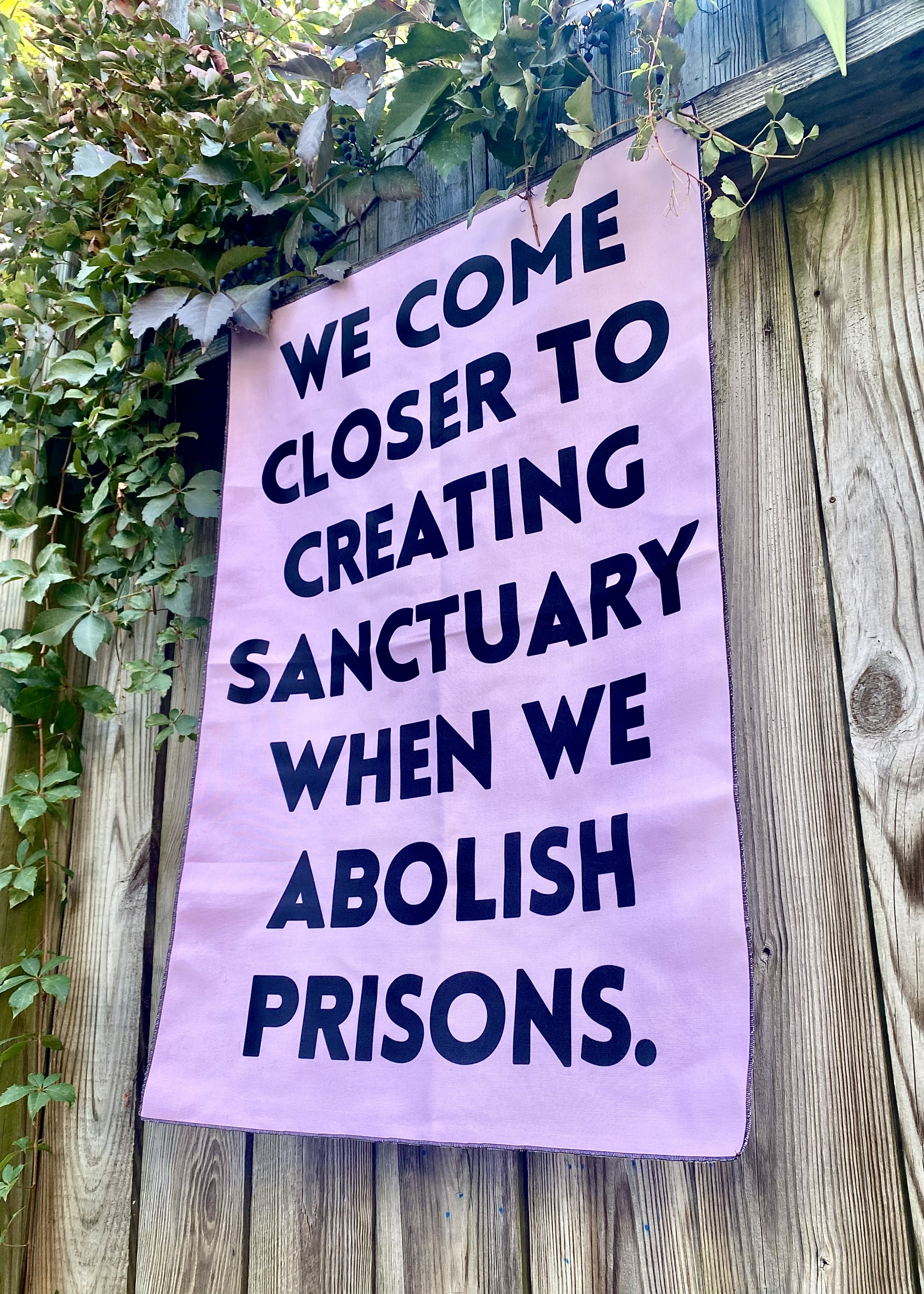 ---
Commune Diverge Shift Connect: Press Press's Organizational Handbook


Co-published by Insitute for Expanded Research and Press Press (pre-order)

Launching in Spring 2023


Commune Diverge Shift Connect: Press Press's Organizational Handbook develops, collects, and shares emergent models and methodologies for collective work that aid in the efforts of cultural organizers. Developed throughout a collaborative engagement between Press Press and Institute for Expanded Research from 2018 - 2022, the publication traces the relationships, ideas, historic events, and projects that constitute Press Press's fluid organizational structure.

This incomplete and intimate archive of Press Press's body of work includes case studies of past projects, interviews with core collective members, and contributions by Yellow Jackets Collective, Devin N. Morris, Lynnette Miranda, and Cameron Shaw. The publication also includes Toolkit for Cooperative, Collective, & Collaborative Cultural Work, a guide for collective processes that centers the insights and learnings of Press Press's community members.

Commune was produced over a four year period in which long-term friends, Kimi Hanauer and Lu Zhang, met weekly to discuss the project as well as the changing circumstances of their lives. As such, the project attempts to reflect the shifts, incongruencies, and messiness of collective work. The making of Commune was guided by the editorial vision of collective members: Vale Cabezas, Kimi Hanauer, Lo, and Bilphena Yahwon. Designed by Sonnenzimmer, the publication is composed of four booklets gathered in a handmade screen printed box.

Pre-order the book at our virtual table from October 13th - 23rd or in person at the Printed Matter NY Art Book Fair this weekend.

$40.00 (pre-order)
shipping in Spring 2023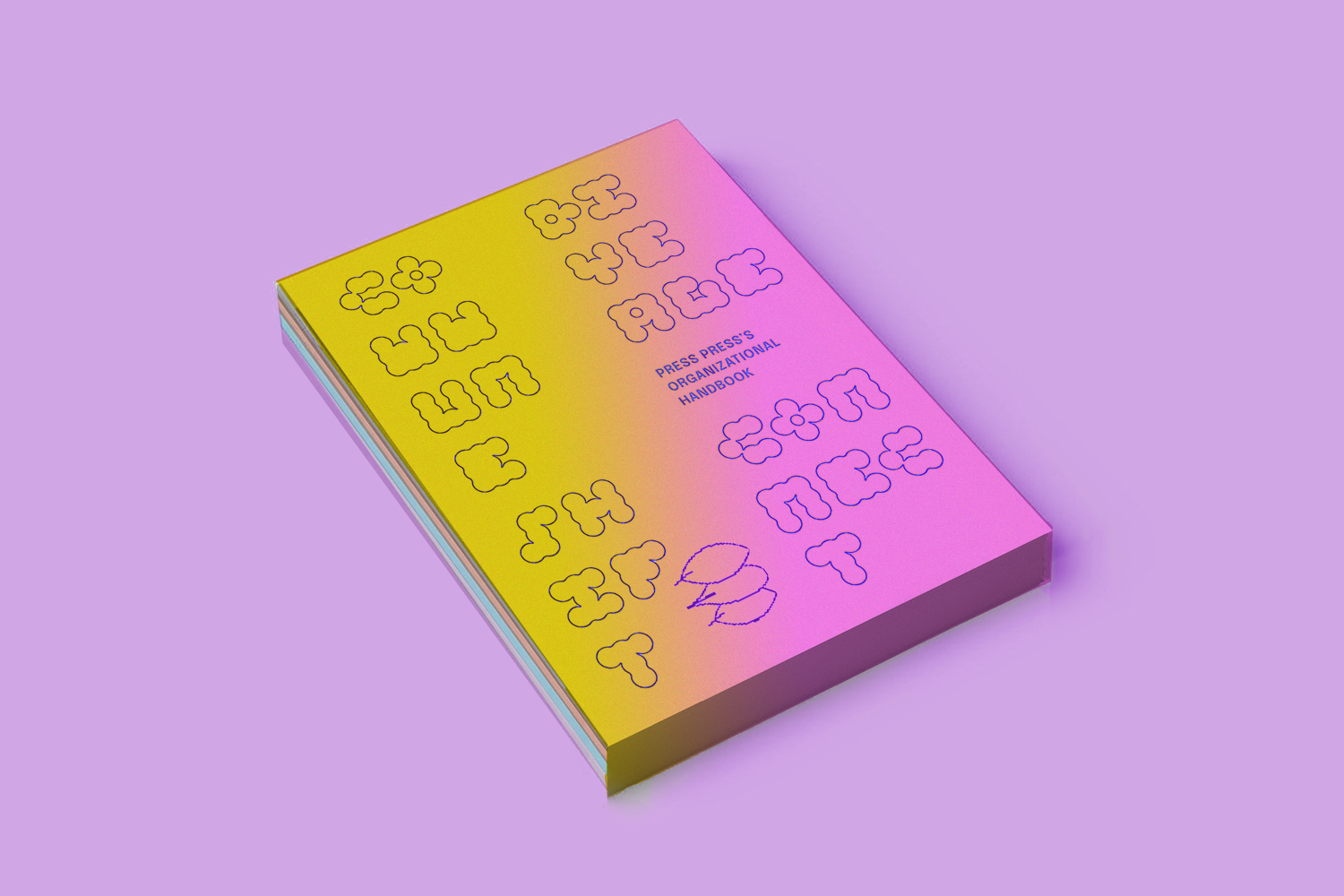 ---
P is for Pussy by Taya Hanauer

Published in 2018.


P is for Pussy (Bookstore Foundation, Amsterdam, 2017) was an exhibition and research project by Taya Hanauer utilizing combined artistic, academic, and curatorial strategies. It sought to show the underlying connection between the narrative of art history and representations of women, as explored through the symbolism of the cat. This exhibition catalogue contains essays about the exhibitions' central themes and narratives.


$30







---
Weaving our Values & Practices by Center for Liberatory Practice & Poetry

Co-published by Center for Liberatory Practice & Poetry and MARCH


Center for Liberatory Practice & Poetry's inaugural Values & Practices is a collectively sourced and living set of agreements aimed to ground those of us who gather through the Center within visions for autonomous and liberated communities. 📖

Co-authored by Center Weavers, Denise Shanté Brown, Lukaza Branfman-Verissimo, Lizania Cruz , Kearra Amaya Gopee, Katie Giritlian, Lo , Georgia McCandlish, Malcolm Peacock, in collaboration with Center Steward, Kimi Hanauer, and workshop co-facilitator, Luz Orozco, the full publication we produced includes the workshop plan we used to facilitate this process, the conversations that our Values & Practices emerged from, and references that offered us guidance.

---
Desire Paths is a shot, like a ballistic draw, at what time does or can do on its own in relation to a photograph, bridging disparate points in the trajectory of its reading into a porous stack. As descriptions referencing a source, we are without precise orientation in a stance as either witness within the frame or viewer beyond. Kearra's writing palpitates the image forward, backward, and still again. And while knowing this information nudges our visual literacy and our sense for gesture, it does not do so in a way that would make us any more prepared from a point of comprehension. This is a literacy that encourages suspension, a doting silence coupling instinct.

Pre-orders are now available for the first edition of 50 publications that will launch in Summer 2023. Pre-orders support our printing costs up front and help us minimize waste.

---
Toolkit for Cooperative, Collective, & Collaborative Cultural Work


Published by Press Press & Institute for Expanded Research

May 2020

Based on two workshops that gathered Baltimore-based cultural organizers, artists, musicians, and community-oriented practitioners, the project explores the challenges of collective cultural work and shares processes, advice, and resources on overcoming various cultural, financial, and structural obstacles. In centering collective working methods that are so counter to the ideologies and frameworks that are encountered daily in a capitalist society, Toolkit aims to honor and embrace our fundamental interconnectivity and interdependence as human beings. We invite you to build, change, and redefine this toolkit as your own: Why and how do you build cooperative, collective, or collaborative-oriented practices that are grounded in equity, liberation, integrity, and difference?

Free Digital Publication

toolkit.press ︎︎︎

Printed Book: only selling IRL at Printed Matter's NY Art Book Fair.
---
Sentiments: Expressions of Cultural Passage

Published by Press Press

September 2018

Sentiments: Expressions of Cultural Passage is a compilation of the sensitivities, hacks, gestures, and actions that we, as immigrants, have used to nourish and preserve ourselves, our families, and our communities. It serves as a toolkit for sanctuary-building, self-determination, and resistance, in the form of ongoing conversations, workshops, artist projects, and writings that explore cultural passage, immigrant identity, and notions of sanctuary. Through this compilation, Sentiments provides a first-person documentation of the various intersections of immigrant identities and the multiple and complicated facets of immigrant experiences. In complicating the traditional narratives, this collection of voices resists the reductive oversimplification of our racially diverse, multicultural, multilingual, and third-space identities, and offers a more nuanced treatment of the wide-ranging identities and experiences that characterize immigrant existence. Additionally, this series explores how the lived experiences of those who are called immigrants in the United States can inform our understanding of how white supremacy has constructed society—and how we can dismantle it.
---
Manifesto for Tender Collaborative Work by Shan Wallace, Iris Lee, and Jenna Porter

Published by Press Press

Fall 2017

During this conversation between Jenna Porter, Iris Lee, and Shan Wallace moderated by Kimi Hanauer, the authors explore the ways tenderness can be used as a strategy to build in space for empathy and support throughout their collaborative process. Throughout our conversation, we wrote down values as they came up, in order to propose our Manifesto for Tender Collaborative Work, which flows through the following text. We hope this manifesto and conversation can build on, or inspire, some tender strategies for life and work.